Description
Samsung A9 2018 128GB Black :
4x Fun With The World's 1st Quad Camera
Discover four times as many ways to take stunning photos. The Galaxy A9 has four rear cameras to capture nearly any moment. And effortlessly enhance your photos with intelligent features like Scene Optimizer and Flaw Detection.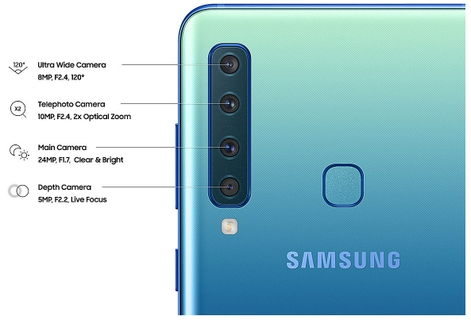 Gives You A Wide-open View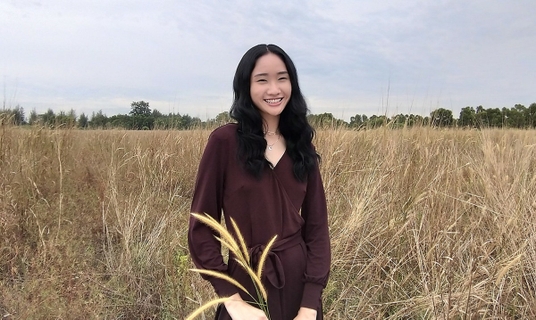 The 8MP Ultra Wide Camera offers a 120º view that captures almost as much as your eyes can see. So what you see is what you'll shoot. And when you want to snap even more of the scene, Ultra Wide Camera makes panorama shots easier, too.
Zooms In On The Details
Capture the scene from where you are. The Galaxy A9 has a 10MP Telephoto Camera with a 2x optical zoom that shoots beautifully detailed photos even from a distance.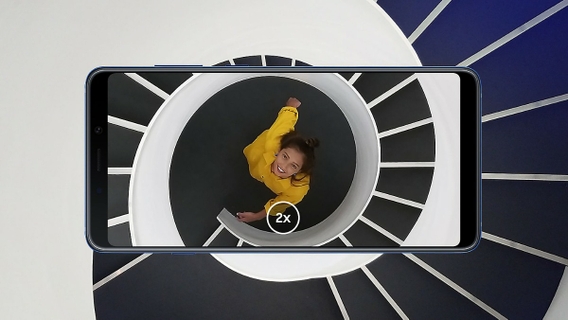 Makes Your Photos Stand Out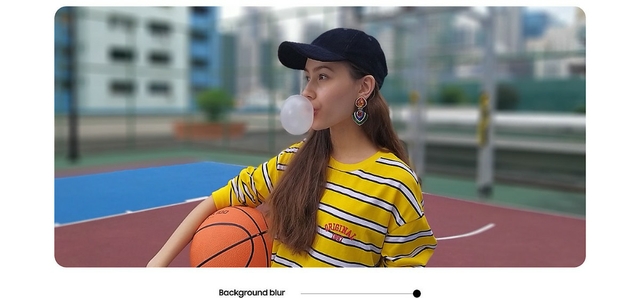 Bring your friends and family to the forefront of your photos with Live Focus. The 5MP Depth Camera and Main Camera work together to adjust the depth of field, blurring out the background to add a pro-level look to your pictures.
Shoots Clear And Bright, Day Or Night
The 24MP Main Camera on Galaxy A9 adapts to bright daylight and low light with ease. Take crisp shots in a bright environment without getting washed out. And at night or in the dark, the camera pulls in more light and minimizing noise to keep the details sharp.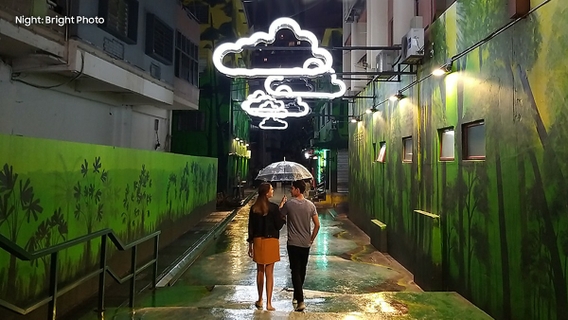 Intelligently Makes Your Photos Better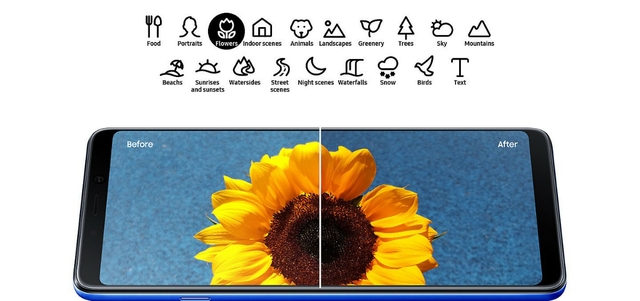 Get the right shot right away. Galaxy A9's intelligent camera features Scene Optimizer, which automatically detects the subject of your photo and chooses between nineteen different modes to optimize the picture accordingly.
Alerts You If The Picture's Not Perfect
The rear camera also tells you how to fix your photos. Flaw Detection is like an intelligent photo adviser, catching eye blinks, facial blurs, and backlighting, then notifying you when something's off in your photo. So you can rework and reshoot before the moment's lost.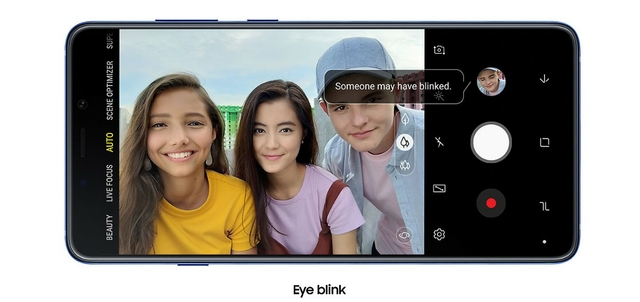 Improved To Level Up Your Selfie Skills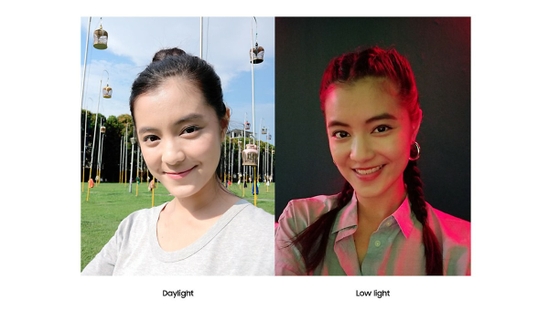 You never know when a selfie moment might happen. Day or night, get crisp and clear selfies on Galaxy A9's 24MP front camera, with innovative low light technology that increases brightness while decreasing noise. And Selfie Focus shines a spotlight on you by blurring out the background.
Turn yourself into an emoji. Add party hats or animal noses to your face. Enhance the colors with a stunning filter. Your imagination can run wild with camera features including stamps, stickers, and even AR Emoji to add an individual touch to your pictures.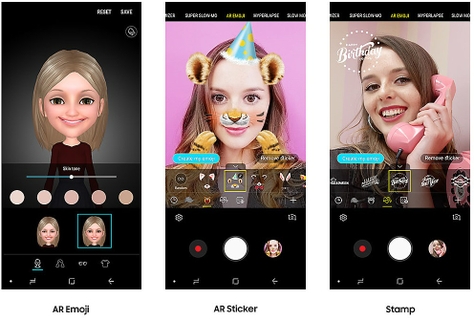 Style You'll Love To Hold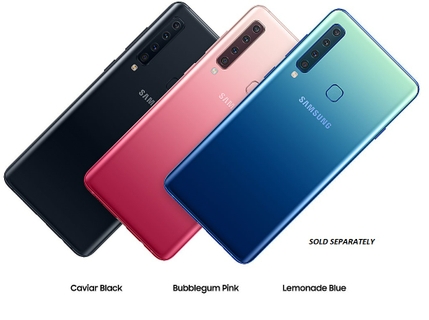 The Galaxy A9 is made to suit your tastes, whether you want to keep it classic with the stylishly glossy Caviar Black or go beyond monochrome with the bold and unique gradient colors of Lemonade Blue or Bubblegum Pink. And it feels as good as it looks with an ergonomic design for a comfortable grip.
Enjoy An Expansive, Immersive View
Immerse yourself into every scene and photo on the Galaxy A9's striking 6.3-inch Infinity Display. Stretching from edge to edge, the vast screen gives you a stunning viewing experience that lets you see more and do more, whether it's multitasking or streaming videos.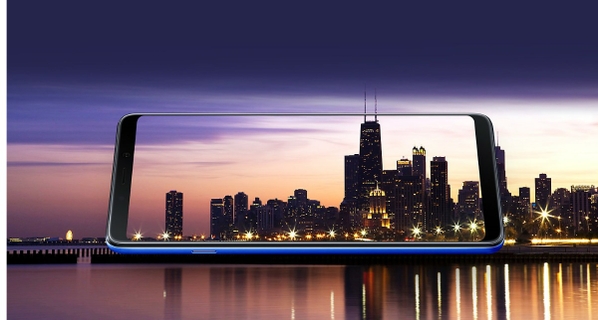 Giving You Information At A Glance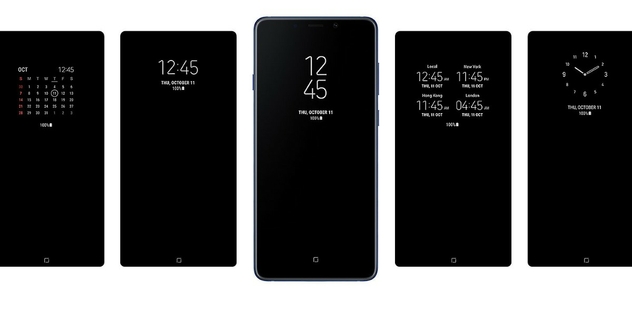 Know what's happening without unlocking your phone. Always On Display lives up to its name, always at the ready with notifications, time, date, and even battery level on your screen.
Streamline the way you multitask. App Pair lets you simultaneously open two apps you often use together. While Snap Window pins an important window to the top of the screen, so you can keep track of a streaming video or chat as you work on other things below. *Only available on certain apps with Multi Window capability.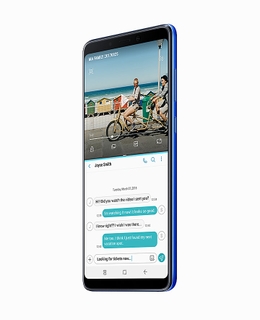 So you can do more, faster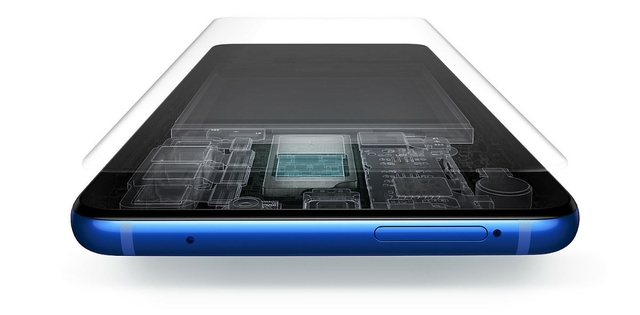 next quickly and seamlessly on the Galaxy A9. Its Octa-Core processor and 6GB or 8GB RAM combination provide performance that keeps you going at high speed whether you're live streaming or multitasking.
Power Through Your Day
Galaxy A9 is equipped with a 3,800mAh (typical) battery that powers your streaming, chatting, and gaming longer, so you don't have to keep an eye on the nearest cord. The Type-C cable makes it easy to plug in and start charging, while Fast charging capabilities mean you power up in a flash.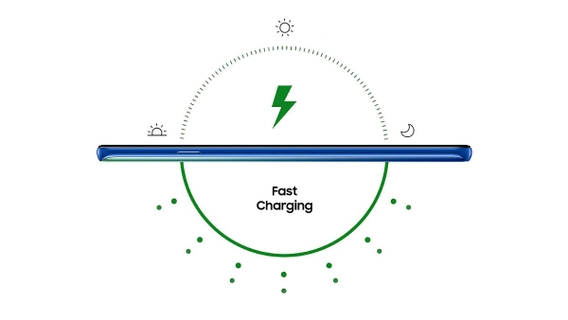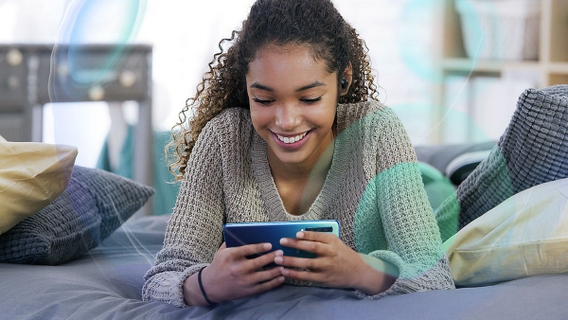 Be immersed in the sounds of the scene with Dolby Atmos. It creates a 360-degree audio experience that you can hold in your hand, enveloping you in your videos and music.
Convenient Ways To Unlock
Personalized protection
Now you can unlock your phone instantly by simply holding it to your face. Face Recognition technology grants access to registered users only to prevent personal data from falling into the wrong hands.
Protection at your fingertip
Simplify access with security you can trust. Galaxy A9 features reliable fingerprint scanning that enables you to log in to websites and apps with ease to allow for seamless multitasking.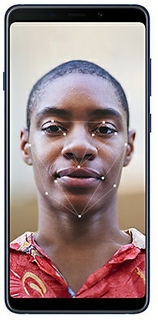 Keeping Your Privacy Protected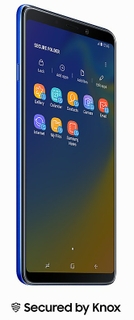 Secure Folder gives you a private and fully encrypted space on your phone that only you can access, easily parting out the things you need to keep locked down. And your important files and apps are given an additional layer of protection because they're secured by Samsung Knox.